Cellular Restoration Tea
00032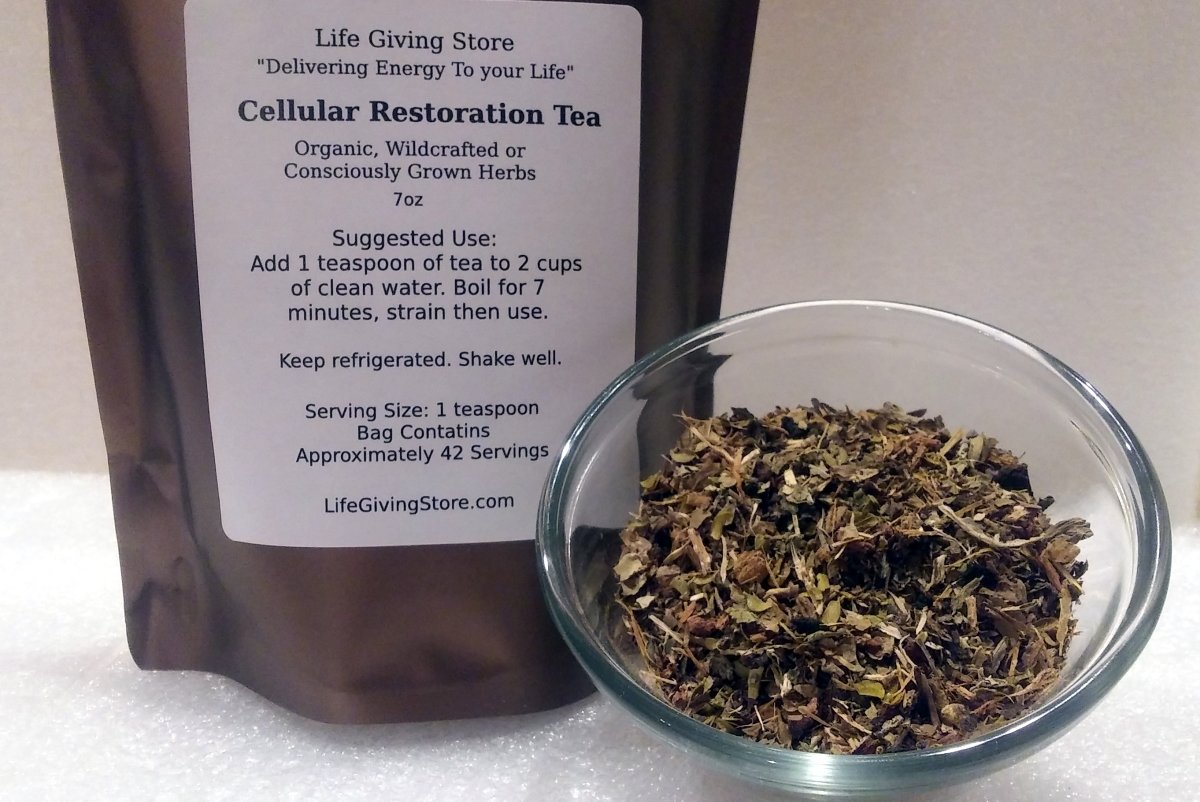 All our ingredients are Organic, Wildcrafted or Consciously Grown Herbs.

Ingredients:
White Oak Bark, Plantain Leaf, Black Walnut, Comfrey Root, Comfrey Leaf, Chaparral, Burdock Root, Marshmallow Root, Nettle Leaf
Suggested Use:
Add 1 teaspoon of tea to 2 cups of clean water. Boil for 7 minutes, strain then use.
Shake well. Keep refrigerated.
Our Cellular Restoration Tea is designed with regeneration in mind. Made specifically for healing and detoxification of your entire body. You can use it as a tea, mouthwash, or anywhere that needs attention. We went through great lengths to source the highest quality herbs. Our family uses this tea consistently and the strides we have made after implementing it are incredible. Rest assured when using these God given herbs that your body is well on it's way to restoration.
Tips:
1. Grind tea with bullet mixer or some other way to chop it up before brewing. This will allow more of the goodness to be extracted.
2. We like to drink less liquid, so we make the tea twice as strong and only use one cup of water to one teaspoon of tea. We each drink about half a cup, to a cup a day at this strength.
3. After brewing our tea we like to let it sit in the glass pot we brew it in for about an hour so more of the good stuff can be extracted into the water.
4. After brewing, add fresh squeezed lemon to the tea and that will increase the detoxing effects.


*Not for use in pregnancy or during lactation.
Actions On The System
Alterative, astringent, anti-inflammatory, anti-cancer, anthelmintic, aperient, bitter tonic (mild), bactericide, blood purifier, carminative, cellular proliferator, cholagogue, detoxicant, diaphoretic, diuretic, demulcent, depurative, deobstru-ent, emollient, febrifuge, hepatic, lithotriptic, nutritive, stimulant, tonic, vulnerary.
Traditional & Historical Usage
All types of cancers (including skin cancer), tumors, abscesses, pimples, toxic conditions of the body, poor digestion, fatigue, infections (all types). Septicemia, detoxification, herpes (both), diabetes, fibrocystic conditions, endometriosis, A-typical cell formation, ovarian cysts, prostatitis, jaundice, hepatitis (all), congestive conditions, snake and insect bites, headaches, all types of skin conditions (eczema, psoriasis, etc.), edema, inflammation of all types, debility, Aids, leprosy, gangrene, parasites, hemorrhoids, prolapsed conditions, etc.
*A dietary supplement. Statements are not evaluated by the FDA. No medical claims made.

Size:
3.5 Ounces (0) 7 Ounces (14) 14 Ounces (42)